Impressions from a Turkey Trip
by Alison Gardner
Editor of Travel with a Challenge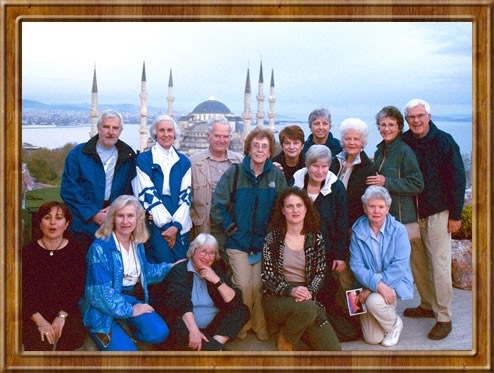 During an 18 day exploration of the western half of Turkey, travel journalist, Alison Gardner, and eleven fellow travelers on an ElderTreks cultural tour discovered that Turkish Delights not only come in a box: they are scattered around every corner and over every hill, waiting to be nibbled and savored!
In this first snapshot, our ElderTreks group assembled for one of the many memorable meals together, this time overlooking the fabulous Blue Mosque and the Sea of Marmara, as daylight gave way to the sparkling lights of one of the world's great cities.
The enormous peninsula of Anatolia, jutting forcefully into the eastern Mediterranean is officially part of Asia, covering all but 3% of present-day Turkey. That 3% is officially in Europe, physically and symbolically establishing the country at a critical crossroads that has determined its multi-layered history and culture. The land has been occupied by so many conquerors and called by so many names through countless millennia that Turkey is influential beyond all proportion in our collective western history, philosophy, religious thought, art, architecture, literature, and much more.
I walked the ruins of the world's oldest "city" dating from 7,500 BC. I wandered through restored streets of the fabulous Greek and Roman city of Ephesus, with its theatre seating 25,000 people and the third largest library in the ancient world. I followed in the footsteps of early Christian apostles who trod much of this land on foot, and even the footsteps of Mary, the mother of Jesus, who came to live in the hills above Ephesus. Much of Old Testament biblical history – Job, Abraham, Noah, and his ark — also unfolds across this land well before Greeks, Romans and Ottoman Turks left their own distinctive stamps.