Lot's of Hot Air in Cappadocia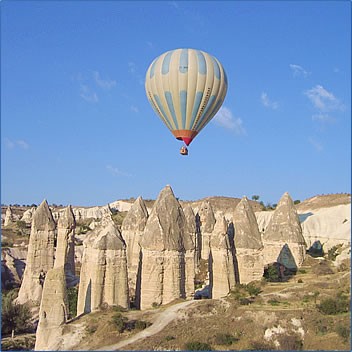 By Alison Gardner
I freely confess that looking down from the height of a kitchen chair makes me feel dizzy. So why would I choose to clamber over the side of a very large wicker basket, and skim high and low over the valleys of Cappadocia in a nine-story high balloon?
Checking the Kapadokya Balloons Goreme website in advance of my departure for Turkey, I was intrigued but somewhat skeptical at the promise that a balloon detached from the ground rarely creates a sensation of vertigo. I also wanted to test out the stated notion that the moving balloon basket hangs quite motionless in its own air mass. Sometimes a journalist's curiosity overcomes her common sense.. So it was that I joined several bleary-eyed fellow travelers from our ElderTreks tour in rising well before dawn to head out in an indestructible Mercedes Benz van for today's chosen launch field.
The take-off site varies according to the direction of the wind, with the considerable skill required to judge the best possible flight path over such a complex pattern of the deeply scored landscape. Although it is technically impossible to direct a balloon, our veteran pilot, Lars-Eric Moere, tells us as we weave along between the fairy chimneys on bumpy backroads in the pre-dawn gloom that he does give the appearance of steering the balloon. I'm not sure I quite follow this logic, but with 30 years of experience flying balloons, Lars' word is good enough for me.